The iPDU's in this data centre, which have been well maintained over their 12-year life span, are still in very good condition and were only replaced due to the internal STS's (Static Transfer Systems) reaching their end of life. As well as internal Static Transfer Switches, the iPDU's feature dual Delta/ Star Isolation Transformers on both incoming supplies. This provides grounding isolation between the primary and secondary windings and eliminates distortion due to third harmonic distortion.
Each of the replacements were carried out over a period of two weekends in order to reduce disruption and risk for the client.
KEY FACTS
Client: Confidential, but we worked with our electrical contractor Metropolitan to complete this product replacement.
Country: London, UK.
Industry: Data Centre.
Products: 400A iPDU, STS
Timeframe: Over the course of two weekends.
Year: 2021
THE ANORD MARDIX SOLUTION
Weekend One
On the first weekend sections 1-5 were removed to make way for the new sections, this begins with removing the old Isolation Transformers. The floor was covered with plywood to protect the finished floor tiles and steel was used to spread the weight of the transformers on the raised floor. The old sections were taken down to the loading bay, to be collected during the week. A temporary mains supply was run in to the existing Pan assembly sections, in order to get them re-energised until the work was completed the following weekend.
Weekend One - Continued
The new sections 1-5 were installed, cabled and dead tested. Testing consisted of mechanical and visual checks, continuity testing of the main power cabling and earthing, Insulation resistance and dielectric tests. The original mains cables were then connected to the new sections, live tested and energised along with the temporary supply to the existing pan assemblies.
Live testing of the new sections 1-5 was completed during the week, as they were not connected to any load there was no risk to the client. All statuses to the head end were tested and the mains fail scenarios of the STS were proven.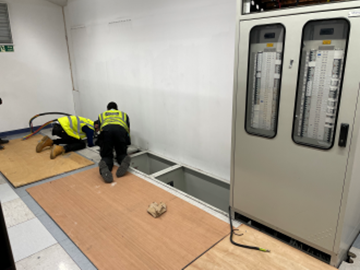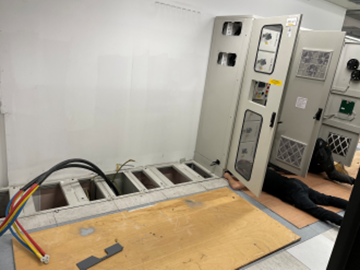 Weekend Two
On the second weekend sections 6 & 7 were replaced, all the existing outgoing cabling was reused so it was disconnected and pulled under the floor. The two new pan assembly sections were installed, and the interconnecting cables were connected and dead tested. Our client then set to work re-terminating all the out-going cables. Once the cables were all terminated the pan assembly sections were energised and live tested before being handed back over to the client.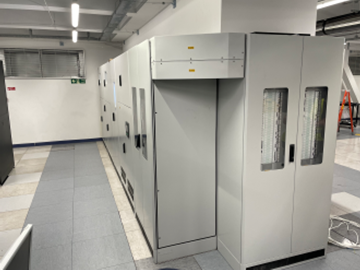 Time Frames
Weekend one: Remove, install, dead test - 6 Engineers -18 hours
Weekend one: Live testing-2 Engineers - 4 Hours
Weekend two: Remove, install, dead test - 4 Engineers -6 hours
Weekend two: Termination of existing cabling - 2 Engineers -12 hours
CUSTOMER BENEFITS
The replacement was a swift success and the client was very pleased with the speed and quality of the replacement. Many thanks to Metropolitan for their help with this service and install.