On Thursday 7th July, we hosted our very first Big Cycle event which encouraged cyclists from all over the UK (and we even had some visitors from the US!) to join us in fundraising for a fantastic charity, the North West Air Ambulance.
The Big Cycle promised all of our cyclists breath-taking views, whether they decided to cycle the 40-mile or 70-mile route that our event's team, Zeus Cycling, plotted and marked out for them.
The Big Cycle Venue
The Anord Mardix Big Cycle was hosted at the Silverholme Manor on the Graythwaite Estate in Windemere.
This venue was perfect for our cyclists to be based at for the day, as it had large, open green spaces and the most amazing view to admire post-cycle whilst enjoying the glorious weather we had all day.
We also added a marquee to house dining tables and our bar, which provided a great dance floor afterwards!
Why the North West Air Ambulance?
We chose to support the North West Air Ambulance charity because of all the amazing work they do saving lives up and down the country.
Because this registered charity is self-funded, they look for donations from the general public to raise the £9.5 million each year needed to keep functioning.
Anord Mardix started off as a small, family-run business with sites based in Kendal, slowly growing to be big enough to employ brothers, sisters, spouses, cousins, aunties and uncles all under the same roof.
As we've grown over the decades, we've expanded throughout Kendal and the rest of the North West to include manufacturing and production facilities across Kendal, Preston and Blackburn.
With our growing employee base, we have strong ties to the areas and communities within Cumbria and Lancashire.
So for us, this isn't only about doing a good deed, this is also about keeping our employees, and their families and friends safe. We want to raise money for a charity who does amazing work in the local areas of our manufacturing facilities in the UK.
The Big Cycle
The cycling itself was split into two groups, the 40 mile and 70 mile distance. Usually the 70 mile distance was taken on by riders who were more comfortable riding a bike for more than a few hours.
The 40 mile distance was the most popular distance, with varying degrees of cycling experience taking on the challenge, from beginners up to more experienced riders. Our main hope for everybody taking part was simply just to have fun, it was a bike ride for charity - so just by taking part all of our cyclists were contributing to something amazing, which meant that we didn't keep track of finish times or hold an awards ceremony afterwards!
The routes were pre planned by a Route Master, which were checked for any road traffic blocks, restrictions or obstructions before the rides took place. We also had a team of people supporting the ride from the front, guiding our cyclists, and from the rear, providing extra water and support when needed.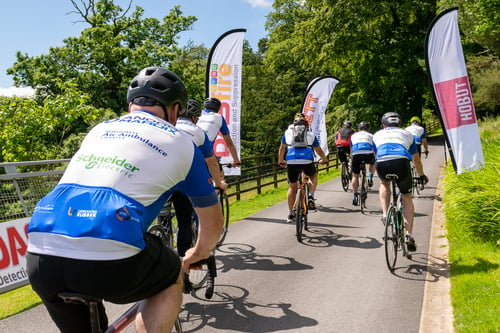 The Anord Mardix Big Cycle had its debut this year and it's been a fantastic day. We can't wait for next year.
James Peacock - Managing Director at Anord Mardix
Great food, drinks and entertainment
As part of the Big Cycle ticket, we provided food throughout the day and even some entertainment in the evening. We asked a local vendor, Viking Spice, to cater for all of our guests both before their bike rides and after their ride, as well as providing some delicious pizzas in the evening during our evening entertainment.
For the evening entertainment we invited Martin Little, a professional saxophonist, to play for us, playing some huge hits for us whilst the sun went down.
With Many Thanks To Our Sponsors
We have been kindly supported by a number of sponsors for this event:

Schneider Electric, Dasfire, Power System Partners, Collet, Howard and Butler, MSS Products, Lancaster Rubber, Supply Technologies, Rexel, Gates Travel.
We would like to take this opportunity to extend our heartfelt thanks to all of our sponsors for supporting the very first Anord Mardix Big Cycle, your generosity has been unprecedented and we are so proud of the event we put on with your support.
Our Big Cycle Volunteers
And, of course, this event wouldn't have been possible without our amazing volunteers who worked tirelessly in the sun all day, behind the scenes, making sure that everything ran smoothly.
A huge shout out to: Nigel Galling, Nicola Johnstone, Billy Johnson, Jess Nisbet, Rachel Storey from Anord Mardix who diligently supported our riders on and off the cycle throughout the day - we deeply appreciate your time, attention to detail and effort on the day.
We would also like to mention the staff at the North West Air Ambulance who came to support us on the day bringing with them a 7-strong team who supported with the organisation at registration and with carpark marshalling.
Special thanks also goes to George Romney Ltd for providing all participants with Kendal mint cake, to Bowness Bay Brewing for providing all finishers with a fantastic bottle of local Fellwalker beer and to Collett for providing some goody bags for everybody post-ride.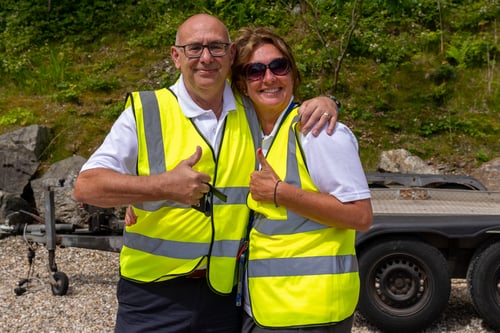 Anord Mardix Big Cycle 2023
All in all, the day was a huge success with fantastic weather, great food, music and entertainment - not to mention the cycling. Not only that, but we managed to raise over £10,000 for the North West Air Ambulance charity!
Thank you to all of those who came, supported us on the day, sponsored the event, volunteered or donated goods or donated money online via the office Big Cycle JustGiving page: https://www.justgiving.com/campaign/AnordMardixBigCycleNWAA22 (you can still donate up to 30th July 2022)
With this event done, we're looking forward to next year - The Anord Mardix Big Cycle 2023 - and you can be sure that the next one is going to be bigger and better than ever. Keep your eyes peeled for tickets!